About Kancho Kanazawa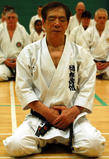 Soke Hirokazu Kanazawa is arguably the most influential Shotokan Karateka alive today,he is one of few still alive who has trained with Master Funakoshi,dispite being in his eighty's his vigour and passion are as strong as ever.
Soke born in 1931 in Japan started his training in martial arts through Judo , but while at University he took up karate under sensei Nakayama former chief instructor of the JKA, while also training under master Funakoshi who left a long lasting impression on him, and in turn he leaves the same sort of impression on all the students kancho teaches now .
In 1957 when he entered the notorious All Japan Karate Championship, winning the final bout with a broken wrist, going against medical advice because his mother was in the crowd and did not want to dissapoint her.
Having successfully comepleted the JKA instructor's course he was sent to Hawaii where he became Chief Instructor. Five years later in 1966 he was sent to England and Quickly made him self a fan base that has continued to the presant day.
In 1977 he was forced to leave the JKA and so established SKIF an Organisation that has grown to over two million members world wide , skif is a total credit to soke Kanazawa who is loved and respected by all his student's and all who know him .